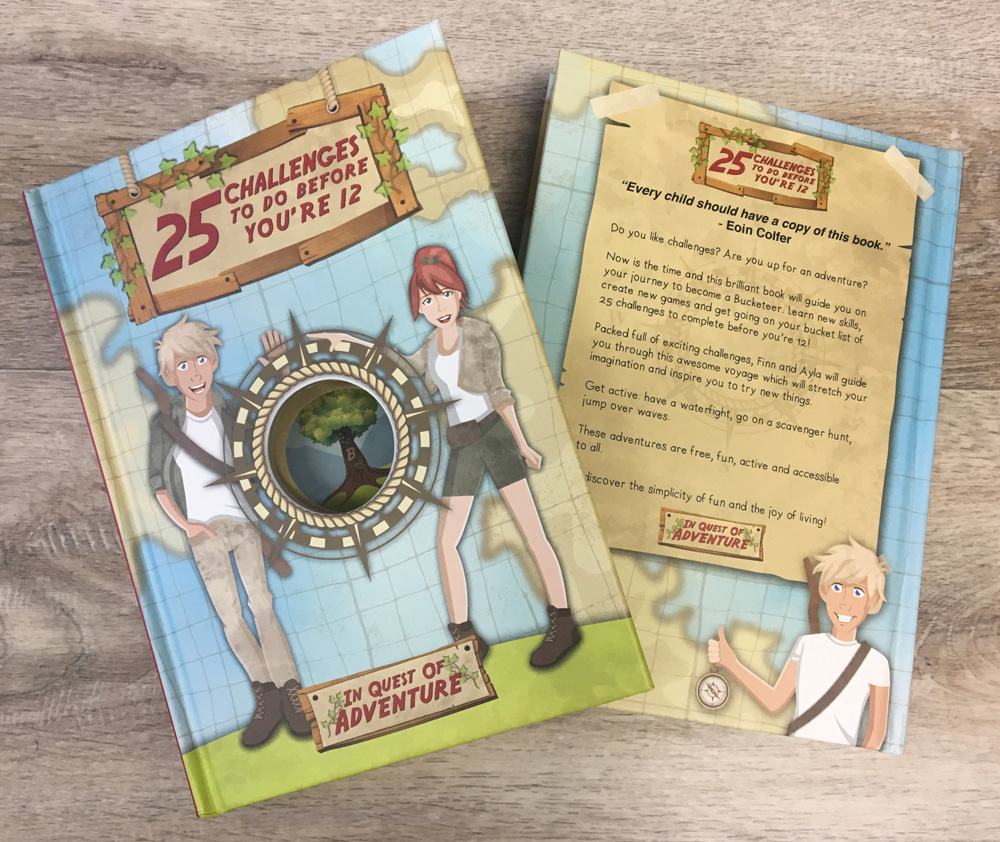 Launch of In Quest of Adventure
We're delighted to announce the launch tonight of Austin and Nicola Gregg's In Quest of Adventure: 25 Challenges To Do Before You're 12. The book, which is aimed, as the title suggests, at the under-12s, was designed and illustrated by Hilary Mullen and Joanne Bent here at Designbytes. It will be launched tonight at The Book Centre in Wexford.
In Quest of Adventure is geared towards getting kids of between the ages of 6 and 11 off their screens, out of the house and playing outdoors. It achieves this with a series of challenges, some educational, some just downright fun!
The book centres around two "Bucketeers" Finn and Ayla, a pair of young, outdoorsy-types who are always up for adventure and a bit of healthy mischief. Kids follow Finn and Ayla's antics in a series of 25 challenges, each one laid-out over six pages. There's something here for everyone from mini-beast hunts to making seashore art to having a water-fight.
Austin and Nicola, a pair of educators with three boys of their own, came to us with the idea and content for the book and we created the visuals from scratch. The end result is a beautifully polished, visually stunning book that should give readers hours of fun.
In an age of sedentary lifestyles and increasing isolation from the natural world, In Quest of Adventure is a tonic which will hopefully help inspire, among kids, a lifelong love and appreciation for the great outdoors.
Although it's far from Designbytes' first book (https://designbytes.ie/our-work/), we really enjoyed this one. It's a fabulous book and it was a pleasure to work with Nicola and Austin. We really enjoyed creating the characters and we're thrilled, after working on it for so long, to finally see the characters come to life.
Praise: There's been a lot of praise for the book so far, notably by renowned Wexford author Eoin Colfer who described it as "the ideal way to get away from screens," adding that "this book should be top of your bucket list".
Buy: Following the launch, In Quest of Adventure: 25 Challenges To Do Before You're 12 will be available in all good bookshops and online from www.inquestofadventure.ie